Commissions
I can be commissioned for imaginative art in response to the needs of communities, institutions, companies or individual clients. Through simple, vibrant images, as well as through more complex kaleidoscopic images, I bring together rhythms, moods and dynamics in action portraits, narrative scenes and dramatic happenings.
The work can be presented in differnt forms and formats through various creative processes. I also deploy my skills for figurative painting and drawing. Paintings, murals, frescos as well as reprographic images are all possible solutions to commissioned briefs for bespoke artworks.
The work is of special interest for both public and private sectors. I can work within healthcare, community and education as well as within civic adminsration and commerce. I can fulfil a brief reflecting the life, culture and ethos of the commissioning body, whilst also bringing to the work my own interests, viewpoints and insight.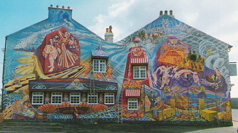 A mural for Hartlepool
Commissioned by Hartlepool Borough Council
Funded by Northern Arts, Cleveland Arts and Gus Robinson Developments Ltd
Acrylic on rendred double gable-end wall
18m x 12m
1992-93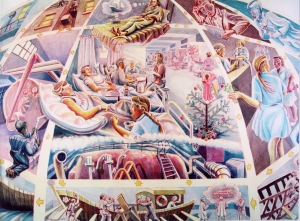 Heart of the Hospital
Site specific painting
Commissioned by Kings Healthcare NHS Trust
Acrylic on MDF wood panel
720cm x 420cm
1994-97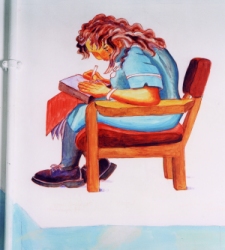 Nurse updating her notes
Detail from "The Passage" Mural cycle
Commissioned by Kings Healthcare NHS Trust
Acrylic on rendered wall
1994-97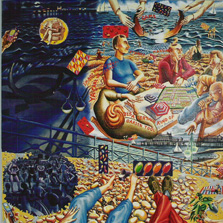 Golden Days
Commissioned by Krattiger Rennison Turst and South East Arts -Year of the Artist Scheme
For the Sussex Beacon - a Centre of Care for people affected by HIV
Acrylic and oil on canvas
150cm x 150cm
2002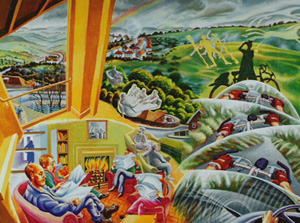 The Haven / Beyond the Window-frame
Site specific painting
Commissioned as for "Golden Days" above
Acrylic and oil on canvas
150cm x 115cm
2002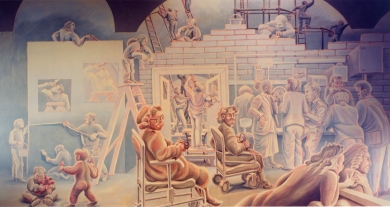 Reconstruction
Site specific painting
Commissioned by Kings Healthcare NHS Trust
Acrylic on MDF wood panel
750cm x 420cm
1994-97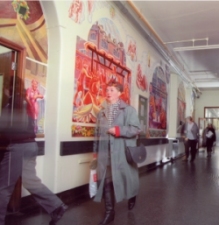 The Passage
Mural cycle comprising 30 inter-related images along the main corridor of King's College Hospital, London
Spanning both sides of the 70m main corridor street, acrylic on MDF wood panel and rendered wall. 780cm x 420cm
Acrylic on renedered wall and MDF wood panel
1994-97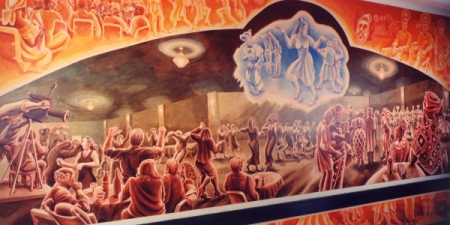 Celebration
Site specific painting
Part of a series of "The Passage series, see above