Frantic Escapes into Northern Soul
Most of these images were made between the years of 1984-1996. Most of them have never been shown publicly.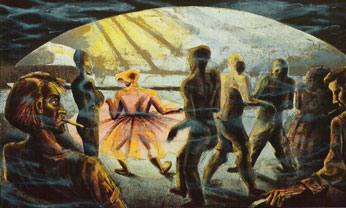 I have shown the whole scale and breadth of the Northern Soul experience as if you are walking through the big sounds in the big venues amongst the dancers - as it appeared to me at the time.
Wigan Casino, which closed in 1982, was typical of a number of other venues which continued throughout the north of England in the 80s and 90s. Large 19th Century ballrooms with domed roofs, ornate balconies and polished wooden dance floors remained the atmospheric venue of choice.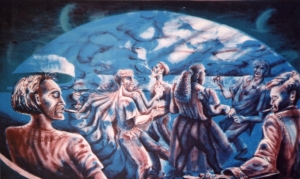 I have always loved music and dancing but when Paul Sadot took me to my first all-nighter on Morecombe Pier in 1985, it opened up a new and unexpected secret world. I took part in this world as a rare soul fan and dancer and tried to explore and capture it in my paintings. The work arose from compulsive visits to all-nighters in Warrington, Bradford, Sheffield, Mansfield, Barnsley, Newcastle and Leeds - developing into an obsession, which continued when I returned to London and found the 100 Club, 6Ts all-nighter in Oxford Street, and Southside Soul Club at The Alex in Clapham.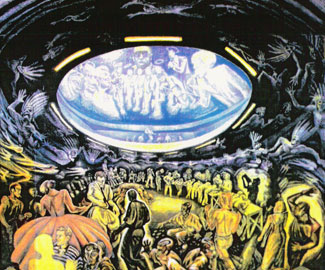 Many of the pictures are drawn in live clubs and I have continued to work in this way in recent years, exploring other kinds of music venues and club cultures that developed later on. But Northern Soul was my first and most formative experience and feels like a kind of musical home.
The paintings are not just about recording street styles and dance moves but about catching the mood, excitement and atmosphere of the all-nighters. This is post Wigan Casino, in the somber "Tory 80s", and many of the images reflect the mood and fashions of that later period when Northern Soul went underground. The dress code was less flared and less flamboyant as was the dancing.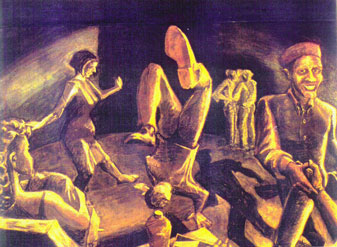 In the clubs I tape a large sheet of paper to the floor or to a wall. I work using broad sweeps of charcoal to establish the space and light ideas then I'd try and catch some of the dancing figures in mid-motion.
I erase and redraw the figures and forms until something clicks and the painting takes on its own life, inspired by what I see, hear and remember.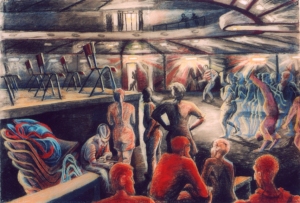 The euphoria of the big dance halls, the emotionally charged music, the heightened dancing, are a strange aspect of contemporary life that is both ancestral and modern. There is often a feeling of "frantic escape" from the boredom and pain of everyday life. This feeling of cathartic escape and release is common to other music scenes that developed later on from disco boogie, rare groove and funk, to house music, garage and broken beats. Subsequent generations have "felt it" with their own music.
Some of these images are limited edition original etchings and lithographs, while others are original paintings and drawings. High quality printed reproductions on acid-free archival papers are also available. All works are for sale.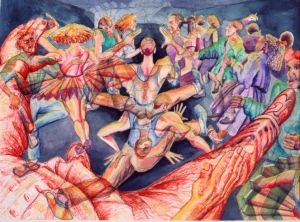 Northern Soul continues to have resonances within popular culture. Though underground and secretive, it pushes to the surface from time to time. Northern tunes backed a recent string of Kentucky Fried Chicken adverts as well as proving introductory theme tunes for a recent hospital soap.
Renowned contemporary photographer, Elaine Constantine, cut her creative teeth photographing Northern Soul dancers and clubs. I myself featured as a dancer in several of Elaine's photographs and music videos.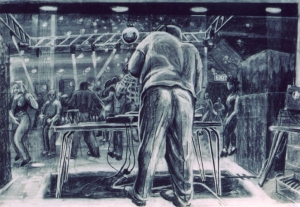 Other photographers such as Ewan Spencer and Rebecca Lewis have also found it a rich source of subject matter.
In 2003, actor/director Paul Sadot produced and directed "Once upon a Time at Wigan Casino", written by Mick Martin. This docudrama toured nationally from Leeds Playhouse down to Riverside Studios.
Music, Clubs and dancing, especially Northern Soul, have spirituality without being religious. Soul music was born from a fusion of Gospel and Blues.