Historical Illustration
I have a life-long interest in history, whether social, aesthetic or political. My fascination with the past comes from an awareness that a knowledge of the past generates a greater understanding of the present.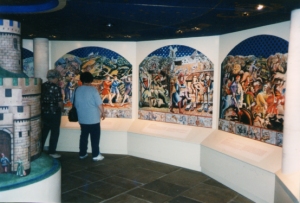 Thus, when working with museum design companies and documentary makers, I immerse my imagination in the imagery and culture of a certain historical period and location. I come up with original and inventive artwork which also references clearly the facts and events as far as we understand them.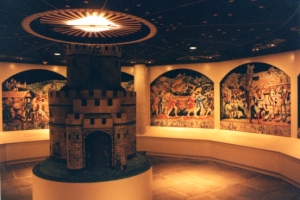 Mural designs and location shots for "A Book of Hours for Medieval England": commissioned by MCANDROIDS Ltd for Dudley Castle Visitors' Centre; concept and site-specific design by Alun Dun; pictorial illustration by Oscar Romp.
The commission entailed the designing and painting of twelve murals, each representing one month of the medieval calendar. The work references social history and political events adapting imagery from primary medieval sources such as frescos and ancient book illuminations. On location, the paintings were reproduced and enlarged photographically.